Suggestion and Comments on Draft Indian Post Office (Amendment) Bill 2006
Gamya Foundation welcomes the Department of Posts initiative to bring an amendment to the century old statute, Indian Post Office Act 1898 by way of Indian Post Office (Amendment) Bill 2006 which proposes to equip the Postal Department to newer challenges and opportunities.
Gamya Foundation voiced the suggestions and comments from the general public to the proposed amendment bill and bought forward the same to the kind notice of Sri. Dayanidhi Maran, Hon'ble Minister of Communications & Information Technology, Government of India and to The Director General, Department of Posts on 03rd May 2006. Suggestions and comments to the proposed draft bill.


---
Budget Recommendations To Government Of Karnataka 2006-07
The young and dynamic members of Gamya Foundation are committed in achieving the desired Goal of the organization in a limited time span. Gamya Foundation through its projects and programs is working very close with the Hon'ble members of the state legislature, bureaucrats, press and public at large.
Continuing its social responsibility, Gamya Foundation presented a budget recommendation to the Government of Karnataka on 09th March 2006 in line with Dr. A. P. J. Abdul Kalam road map for Karnataka's prosperity to implement some of the projects in the 2006-2007 budgets.
This enthusiastic effort of Gamya has been seriously recognized and appreciated by the state government. In the budget 2006 -07, state government has made financial allocation to implement the Bio-fuel project in karnataka. Click for Highlights of Karnataka Budget 2006-07.


Vidya Dana – 2005 (Distribution of free educational aids to students)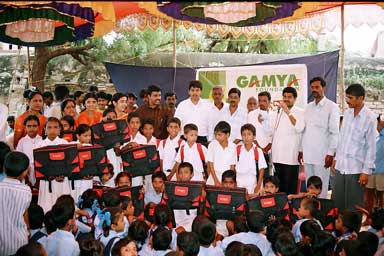 Students of Kote Higher Primary School, Huvina Hadagali Taluk, Bellary District, Karnataka, proudly wearing
Gamya Foundation's
school bags with educational aids along with Goutham G., President and Satish N., Vice-President of Gamya Foundation during Vidya Dana - 2005 held on 27th Aug 2005.
Gamya believes that educated, athletic and culturally integrated youths are strongly essential in making India a super power in this knowledge economy. Gamya Foundation has identified 10,000 economically weak students across the state and decided to distribute free bag, lunch box, water bottle, notebooks, pens, instrument box and other essential materials to support their education. Vidya Dana – 2005 was inaugurated by Hon'ble Minister for Revenue Sri M. P. Prakash and other dignitaries like Sri Vishweshwar Bhatt, Managing Editor, Vijaya Karnataka, Sri Lakshminarayana, IAS, Commissioner, Karnataka Housing Board, Sri K. V. R. Tagore IPS, Inspector General of Police & Additional Commissioner of Police (Traffic & Security), Karnataka, distributed these materials to students of Sri Sangameshwara Kannada Higher Primary School in Byrasandra slum, Bangalore on 21 June 2005.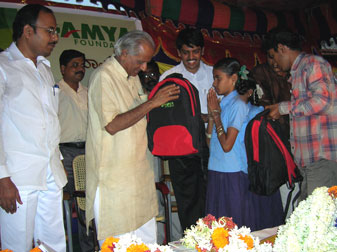 Sri. M. P. Prakash, Hon'ble Deputy Chief Minister, Govt. of Karnataka Distributing school bag with educational aids to a student of Gowripura Model school, Gowripura, Bellary District.
The second program in this series was held on 19 July 2005 in Sri Basaveshwara High School, Rajajinagar, Bangalore. Sri. P. G. R. Sindhia, Hon'ble Minister for large, Medium & Small scale Industries and Infrastructure, Government of Karnataka inaugurated the program. Sri V. N. Subba Rao, Chairman Karnataka Media Academy Presided the program. Sri Shankar M. Bidari IPS, Inspector General of Police(central range), Karnataka and Sri Shadakshari, Managing Director Ramanashree Group were present as cheif guests.

The next three programs of Vidya Dana - 2005 series were held from 25-08-2005 to 27-08-2005 at Government Model higher primary schools of Gowripura village, Davanagere District, Manganahalli village Bellary district, Huvina Hadagali, Bellary District. Sri M. P. Prakash, Hon'ble Deputy Chief Minister, Government of Karnataka and Taluk and village panchayathi President and members blessed the occassion.

Yuva Samskruthi Samavesha - 2004 (Youth Cultural Convention)
Yuva Samskruti Samavesha was held on 4th of September 2004 at Chowdaiah Memorial Hall in Bangalore. The 1003 winners of Sirigannadam Gelge - 2003 contests were awarded in this program. National and international reputed artists of our state exhibited our rich and vibrant culture to the jam packed audience with their affluent talent. The event blessed by the presence of dignitaries like Dharmadhikari Sri. Veerendra Heggade, Hon'ble Chief Minister Sri N. Dharam Singh, Hon'ble minister for Water Resource & Surface Transport Sri. Mallikarjuna M. Kharge. Noted writer and Jnanapeet Awardee Dr. U. R. Anthamurthy also graced the event. Sri. Venkatanarayana, Editor, Kannadaprabha and Sri. Goutham G, President Gamya Foundation shared the stage with these dignitaries.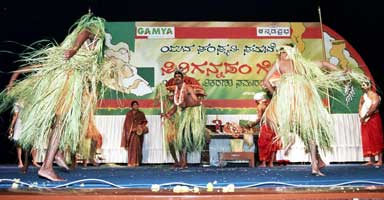 A folk dance 'Bhootada kola' by Mohan Alva and team during Yuva Samskruthi Samavesha held on 4th September 2004.
Sirigannadam Gelge Contest – 2003 (A
Literary Contest
on Kannada )
We at Gamya believe that a strong sense of cultural identity in the youth is a prerequisite in building a sound society. Gamya Foundation partnered with Indian Express Group conducted the South India level literary contest, "Sirigannadam Gelge - 2003", during the National Youth Week. Sirigannadam Gelge contest- a platform meant to reward our youth for their awareness about culture, literature and liberal arts. More than 20,000 Students representing all 5 states of Southern India have participated in the contest. The contest had the following generous awards in store - first prize Rs.50,000, second prize Rs.25,000, third prize Rs.10,000 and one thousand Consolation prizes.